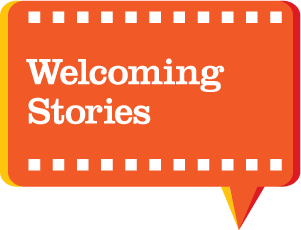 About Welcoming Stories
Welcoming Stories aims to encourage Americans to become more welcoming, and to inspire other immigrants to share their own story about someone who made a big difference in their lives when they first arrived.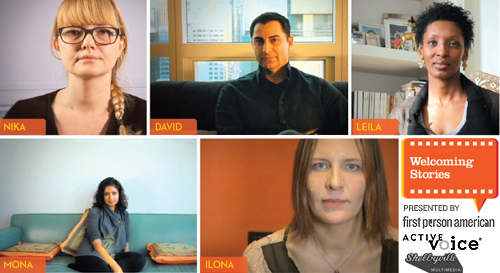 We're excited to team up with Active Voice to produce Welcoming Stories, a series of episodes that tell the stories of immigrants whose lives were transformed by a simple act of welcoming. We hope to bring together these small acts of kindness, big-hearted moments and simple but life-changing connections and offer them back to you. This series of five pilot episodes was developed alongside a documentary, called Welcome to Shelbyville, which premiered nationwide on PBS on May 24, 2011.

We encourage you to submit your own welcoming stories! For more information and to view or share your own Welcoming Story, click here. Read the full press release here.
A big thank you to the five story-tellers featured in Welcoming Stories! Here are the five episodes:






Nika shares her story of coming to America from Warsaw, Poland in 1989. Nika remembers how she felt in an American classroom before she spoke English and how her ESL teacher who helped her in the first months had a lasting influence on her life to this day.






Leila talks about leaving Kenya as a teenager. At 17 Leila didn't know exactly what she wanted, but she knew it wasn't an arranged marriage in her native Kenya. Now a successful business owner, Leila remembers her ex-husband's mother, who gave her the tools to build and realize her own American dream.






David learned everything about the US from watching "The Jetsons" during his childhood in Iran. When his uncle summoned him to Chicago, he found that some Americans really do live "in the sky." David shares how his uncle helped him in his early days in America and expresses the gratitude he feels towards his uncle's generosity.






Mona is a first-generation Indian-American born and raised in California. She shares her parents' Welcoming Story of coming to the United States from Calcutta, India, in 1971. Her father's best friend, Bishash, picked them up from the airport and made himself their new tour guide. Bishash's enthusiasm and adventurous spirit encouraged Mona's parents to discover a powerful bond that would help embrace their new American world.






Ilona came alone to the United States from St. Petersburg, Russia at age 18. She talks about Yvette, a college friend who took a special interest in her and has since become a lifelong friend and a "sister". Ilona doesn't know if she would have survived here for as long without her friend's good soul.

First Person American would like to thank the crew of Welcoming Stories for their time and dedication to this project.

Welcoming Stories Credits

Executive Producer
Ellen Schneider

Directed and Produced by
Irina Lee

Director of Photography
Christi Clifford

Production Crew
Adrian Jank
Lara McCormick
Sonia Ortiz
Eugene Armencha

Sound Mixer
Mark Vitelli

Music by
Andy Thompson
Click here to read the full press release here.